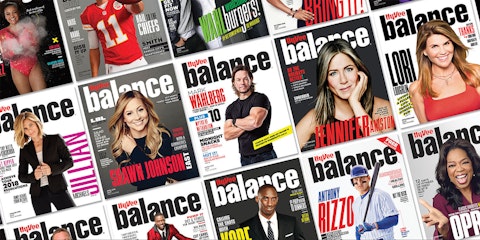 Client: Hy-Vee, Inc.
Hy-Vee Balance
Hy-Vee is an employee-owned chain of supermarkets with more than 280 locations in the Midwestern and Southern United States, including Iowa, Illinois, Kansas, Minnesota, Missouri, Nebraska, South Dakota, Wisconsin.
Services
Art & Editorial Direction
Content Research
Copywriting & Editing
Graphic Design & Illustration
Photography & Photo Editing
Recipe Development
Set Production & Styling
Brief
In 2017, Hy-Vee contracted Grey Dog Media to develop a prospectus for a new health and wellness magazine. The philosophy developed for the publication was grounded on the belief that being healthy is not about being "skinny," but rather about promoting an attitude and lifestyle of healthy behavior. The magazine needed to encourage readers to strive for a physical body that functions well and performs the tasks needed for living an active, fulfilled life.
Result
Grey Dog Media created Hy-Vee Balance, a complementary monthly magazine distributed both to customer homes and instore, with a modern, graphic design aesthetic. Its copy empowered readers through timely health and fitness information with action-oriented, practical solutions for better eating, disease prevention and best body function and improvement helps. The editorial coverage included professional dietitians, pharmacists, food editors and wellness coaches. An award-winning publication, Hy-Vee Balance was created with the same production methods used by top-tier newsstand magazines and seamlessly incorporated advertising, brand and product messaging.