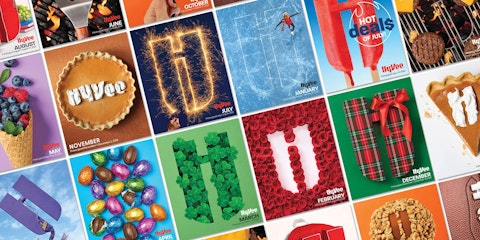 Client: Hy-Vee, Inc.
Hy-Vee Mega Ad
Hy-Vee is an employee-owned chain of supermarkets with more than 280 locations in the Midwestern and Southern United States, including Iowa, Illinois, Kansas, Minnesota, Missouri, Nebraska, South Dakota, Wisconsin.
Services
Art & Editorial Direction
Content Research
Copywriting & Editing
Graphic Design & Illustration
Photography & Photo Editing
Recipe Development
Set Production & Styling
Brief
Hy-Vee needed a new print publication to supplement their long-standing newspaper print ads in order to increase product awareness and promote in-store deals. The project demanded a product-driven approach to highlight the client's wide array of merchandise in an easy-to-navigate format for customers.
Result
Grey Dog created the Hy-Vee Mega Ad, a monthly catalog delivered to customer homes and Hy-Vee stores. The clean, compartmentalized design allows readers to easily browse through available products, which are categorized according to the section they are found instore. Each issue features hundreds of products presented in styled photographs and grid format to showcase a range of available products, monthly deals, coupons and more.