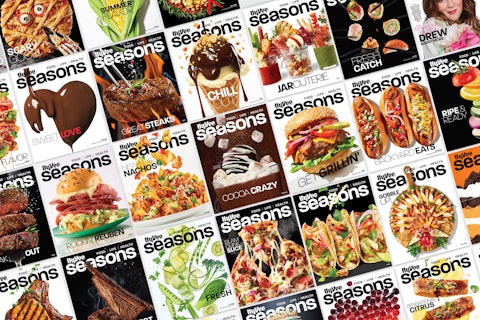 Client: Hy-Vee, Inc.
Hy-Vee Seasons
Hy-Vee is an employee-owned chain of supermarkets with more than 280 locations in the Midwestern and Southern United States, including Iowa, Illinois, Kansas, Minnesota, Missouri, Nebraska, South Dakota, Wisconsin.
Services
Art & Editorial Direction
Content Research
Copywriting & Editing
Graphic Design & Illustration
Photography & Photo Editing
Recipe Development
Set Production & Styling
Brief
In 2006 Hy-Vee contracted Grey Dog Media to develop, launch and produce a magazine for customers. The primary purpose for the publication was to promote relevant products, offer ad space to branding partners and provide food and lifestyle content in a valuable consumer-friendly format.
Result
Grey Dog Media created Hy-Vee Seasons, at the time, a new idea in messaging, that merged corporate marketing initiatives with high-level editorial content. Hy-Vee Seasons was created to be responsive to customers' needs and wants for living easier, healthier and happier lives (Hy-Vee's motto). Content created includes inspiring recipes and entertaining ideas, practical home and family solutions, timely health and wellness information and the coverage of interesting people, places and trends; enhanced with helpful product and service sales promotion.
The award-winning publication uses the same production methods used by top-tier newsstand magazines and seamlessly incorporates advertising, brand and product messaging. The magazine is complimentary and is delivered monthly to customer homes and Hy-Vee stores.